Moghan Memling Gul rug in an ivory ground


CODE: MOGMM06

Size: 152x202cm

Size (ft): 5'0"x6'7"

Area: 3.07 m2

Density: 165 000 knots per square meter, totally ~over 500 000 knots

Colors: medium red, light red, yellow, cerulean blue, variegated light green, medium dark green, midnight blue, navy blue, ivory, dark brown, light brown, maroon.

Dyes: madder, weld (Reseda Luteola), indigo, pomegranate skins, onion skins, natural dark brown sheep wool, natural ivory sheep wool

Materials: Handcarded and handspun wool for pile, ivory wool warps and ivory wool wefts (two shots). 1cm of flatwoven kilim ends at both sides. - wool on wool

Knots: Gördes (Turkish, symmetrical)

Pile height: 0.5cm

Ends: five rows of decorative knotted meshwork

Inscriptions: 1439 (=2018 weaving date), tamga (tribal seal) of Afshar tribe, "Mughan"




Weaver: Zari

Weaving Period: Four months

Handwoven in Azerbaijan

Design: The ivory field with two columns of large multicoloured Memling guls flanked by diamond shaped triangles, in an ivory border of polychrome reciprocal birds motif between arrowhead minor borders and barber-pole and plain stripes.

This well-known design appears in a number of early European depictions of oriental carpets; for example, on the reverse of the eponymous late-fifteenth-century panel portrait of a young man by Hans Memling (Flemish, 1430/5-1494) in Madrid is painted a still life in which a vase of flowers rests on a small carpet with similar medallions.


Flower Still-life, c. 1490, Museo Thyssen-Bornemisza, Madrid. By Hans Memling (b. ca. 1440, Seligenstadt, d. 1494, Bruges)


Recent scholarship suggests that these medallions are of a type known as gül, often thought to symbolize a particular Turkic tribal group. Two earlier carpets with the design have survived, one in Budapest and another in Konya. Similar motifs are found in surviving weavings from several Turkmen tribes of central Asia, as well as in carpets woven by Turkic nomads and villagers in Transcaucasia, southern Iran, and in many different locations in Anatolia (Asiatic Turkey) today. Memling also painted similar carpets under the feet of the Virgin in several of his altarpieces, including, for example, the Virgin and Child Enthroned in the Kunsthistoriches Museum, Vienna; inv. 939. Another early depiction of a "Memling" carpet appears as a bedroom furnishing in a ca. 1460 miniature painting from the Livre du coeur d'amours espris in the National Library in Vienna, Cod. Vind. 259 (Lit: Walter Danny)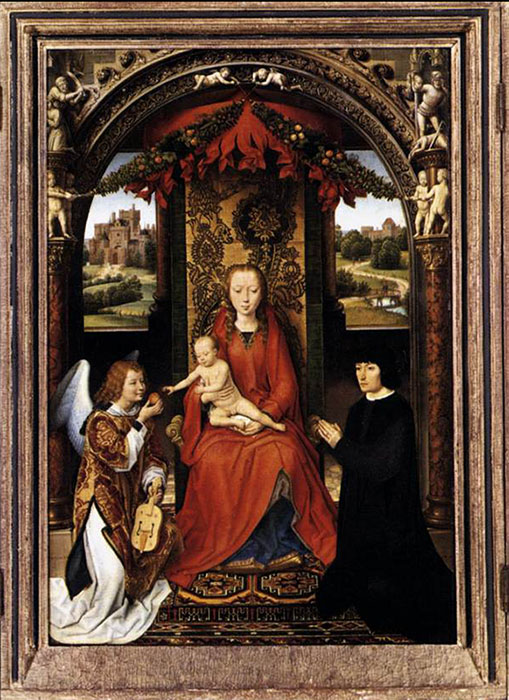 a detail from "Triptych", c. 1485. Kunsthistorisches Museum, Vienna, by Hans Memling
by Bartelemy d'Eyck, the Dream from The Livre of Rene de Anjou, ca. 1460
Vienna