Caucasian Kuba Shahnazarli Rug
Code: KUSHAH01
Size: 147x205cm
Size (ft): 4'9"x6'8"
Area: 3.01 m2
Density: 170 000 knots per square meter
Dyes: 100% natural dyes: madder, weld (Reseda Luteola), indigo, pomegranate skins, walnut husks
Materials: Handcarded and handspun wool for pile, wool warps and cotton wefts
Hand Woven in Azerbaijan
Design: Three diamond medallions surrounded two large gubbas (domes) are contoured in sky blue and honey yellow against a cerulean blue field decorated with rectangular tribal motives and an interspersing arrangement of ivory grapes leaf motifs; in a golden yellow birds main border, between an ivory "Z" type inner border and an outer border of octofoil blossoms, separated by rust and ivory 'barber's' pole guard stripes. A successful and satisfying application of a constrained palette of earth and sky shades, producing a cool, refined tonal atmosphere ideally suited to the disciplined economy of the design.
Contact us for more information about this rug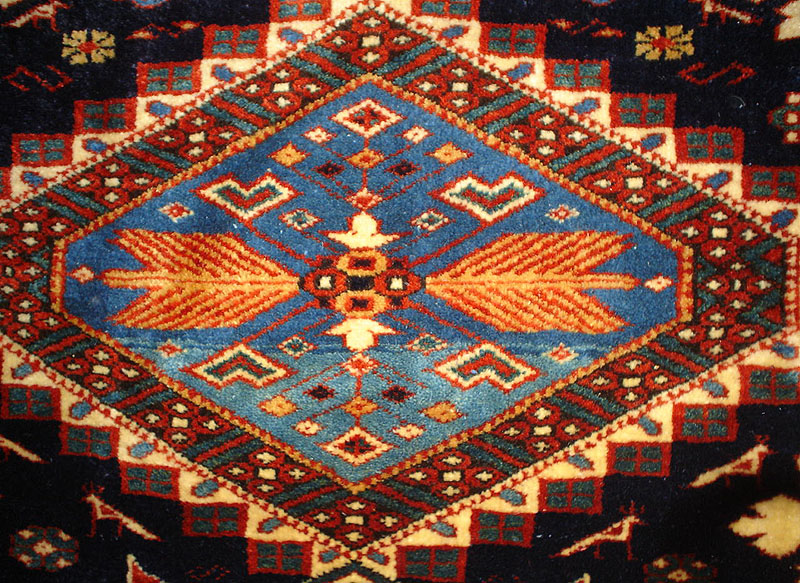 For more information about the above rug or to place an order please email vd@azerbaijanrugs.com (Baku, Azerbaijan) or ra@azerbaijanrugs.com (San Francisco Bay Area). We will get back to you within 24 hours or less.