Caucasian Medallion Gubpa Rug (Shirvan Kurdemir type)
CODE: KUSHAH11
Size: 100x210cm
Size (ft): 3'3"x6'10"
Area: 2.1 m2
Density: 170 000 knots per square meter
Dyes: 100% natural dyes: madder, spurge / euphorbia for green and yellow, indigo
Materials: Handcarded and handspun wool for pile, wool warps and cotton wefts
Hand knotted in Azerbaijan
Design: Three diamond medallions of concentric inner construction and two broad red serrate-edged extensions (dome, gubba) carry two green hexagon end-pendants, all against a light blue field of latch-hooked diamonds encased in crimson and ivory boxed surrounds; a golden red interlocked S type of inner borders surrounding a broad indigo-blue "pine tree" (or superimposed arrow heads) central border. A well-drawn and attractively coloured Shirvan in one of the best-known designs of the origin, the radiating serrated lozenges in red above and below the medallions often explained as being fire symbols of the Zoroastrian cult.
Contact us for more information about this rug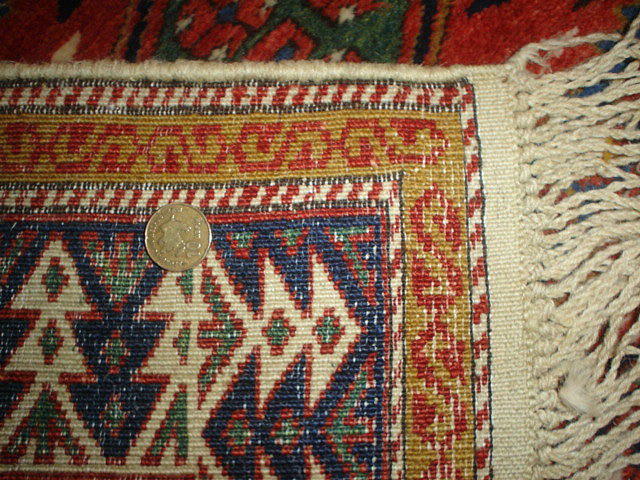 For more information about the above rug or to place an order please email vd@azerbaijanrugs.com (Baku, Azerbaijan) or ra@azerbaijanrugs.com (San Francisco Bay Area). We will get back to you within 24 hours or less.