Kuba Pirebedil (so called Perepedil) rug

Code: KUPER39M

Size: 152x213cm

Size (ft): 5'0"x7'0"

Area: 3.23 m2

Density: 187 000 knots per square meter, totally ~600 000 knots

Colors: midnight blue, pine green, red, gold yellow, ivory, dark brown, old purple, burgundy, light brown, medium blue.

Dyes: madder, weld (Reseda Luteola),

cochineal

, onion skins, indigo, pomegranate skins, walnut husks, natural dark brown sheep wool, natural ivory sheep wool.

Materials: Handcarded and handspun wool for pile, ivory wool warps and ivory wool wefts (two shots). 1cm of flatwoven kilim ends at both sides. - wool on wool

Knots: Gördes (Turkish, symmetrical)

Pile height: 0.4cm

Ends: five rows of decorative knotted meshwork

Weaver: Aynura

Weaving Period: 4 months

Handwoven in Azerbaijan

Design: The dark blue field scattered with a variety of animals & birds and geometric motifs around alternating ram's horn motifs flanked by hooked dart (or scissors) motifs etc. in a madder red kufic border.

Contact us for more information about this rug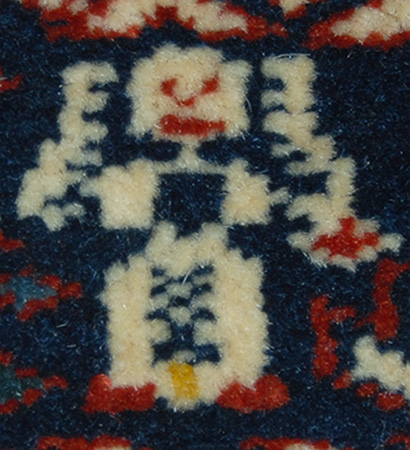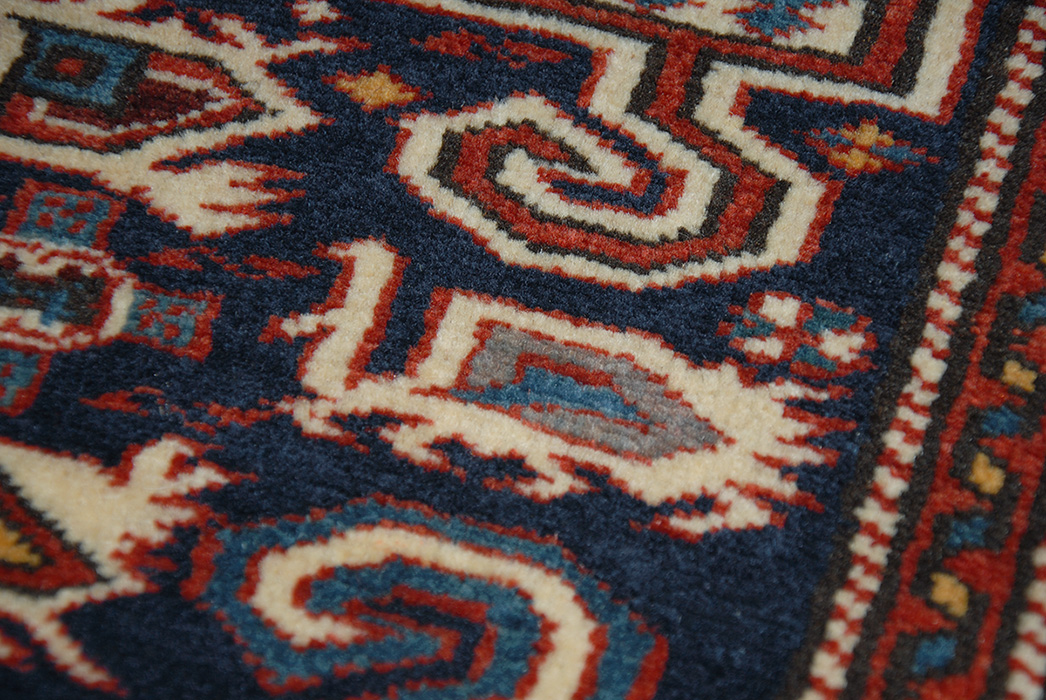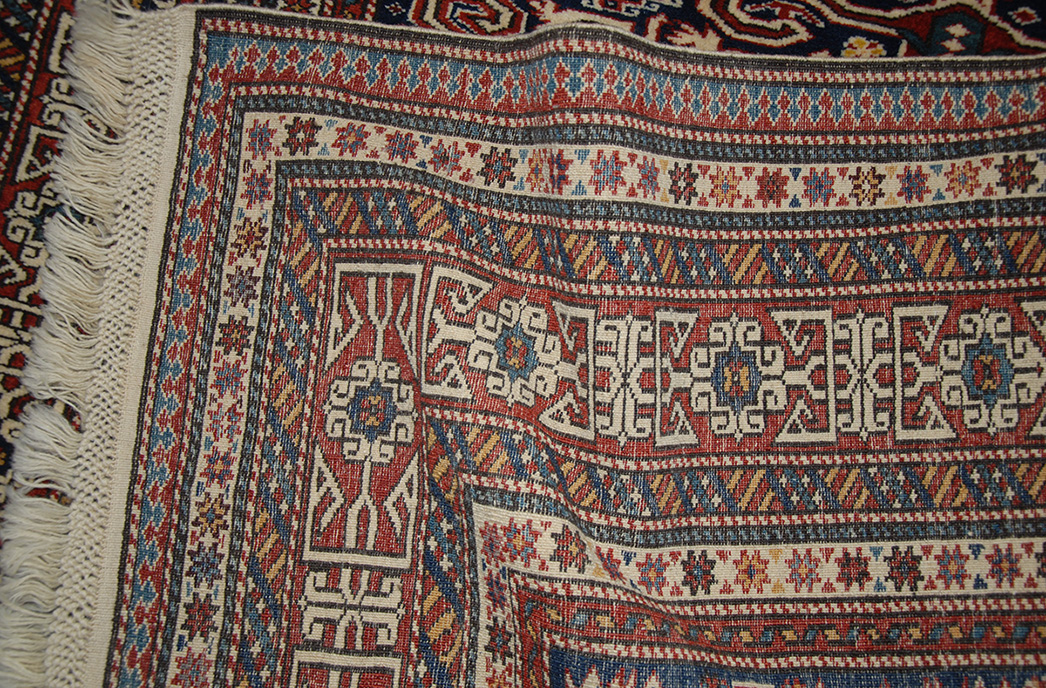 ---

A rug with a stylized kufic border depicted in this painting of Carlo Crivelli (Annunciation with St Emidius), 1486. Oil on wood transferred to canvas, 207 x 146,5 cm. National Gallery, London

King Henry on a rug with a kufesque border. Hampton Court Palace 1667 by Remigius van Leemput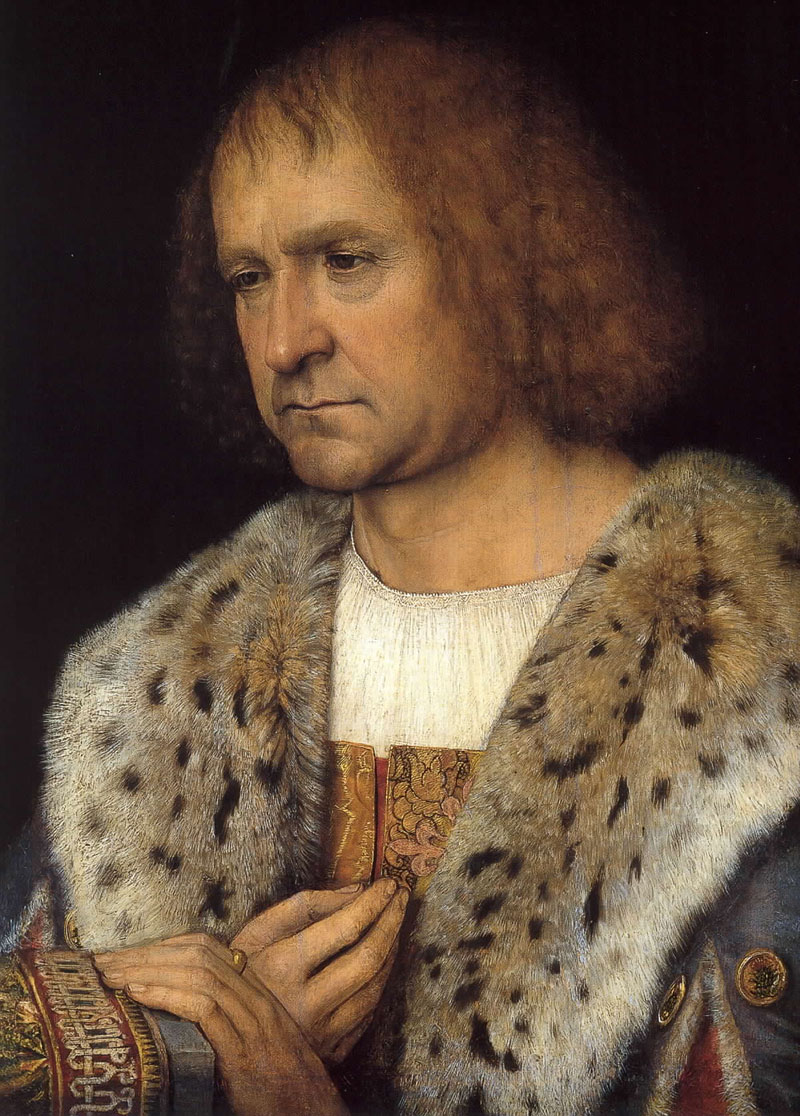 Portrait of Diego de Guevara, (c. 1515 - 1518), by Michel Sittow (c.1469–1525)

St Jerome in his Study, 1480, Ognissanti, Florence. by Domenico Ghirlandaio

A wood panel with a kufic border from Ibn Tulun mosque, Egypt, XIII century

Bronze pin in the form of rams horn, Azerbaijan. IV millennium BC.

Rams Horn petroglyphs from Gobustan Rocks. III millennium BC.
Contact us for more information about this rug