Kazak Pinwheel / Swastika rug

CODE: KZPW05
Size (metric): 155x237cm
Size (ft): 5'1"x7'9"
Area: 3.67 m2
Density: 110 000 knots per square meter, totally ~ 450 000 knots
Pile height: 0.6 cm
End finish:

braided


Weaving period: 3 months

Colors: light madder red, dark madder red, dark navy blue, light navy blue, goldenrod, old purple/mauve, gold yellow, variegated green, forest green, ivory, dark brown.
Dyes: 100% natural dyes: madder, weld (Reseda Luteola), woad, indigo, pomegranate skins, walnut husks, natural brown sheep wool, natural ivory sheep wool - all are eco-friendly and non-toxic
Materials: Handcarded and handspun wool for pile,

wool warps (

natural ivory and brown twist

)

and two shots of red wool wefts

Weavers: Gültekin
Handwoven in Azerbaijan


Design: The design is distinguished by the typical "Pinwheel" or Swastika shaped archaic devices located in the central field. The swastika is an ancient symbol, often interpreted with celestial connotations. According to some researchers, it represents the heavens with the center of the swastika as the north star (in fact, it is the endless knot motif) and the twisting arms of the motif symbolizing the movement of the constellations around that focal point. It is graphically portrayed in many weavings from Caucasian Azerbaijan, including the Bordjalou and Kazak areas. This element is called "Dörd-buynuz" (means "four rams") or "Damga" (Tamga) in Kazak region.

Another theory sees swastika as a highly stylized zoomorphic motif. The element was widely used in early Turkish rugs and in some Central Asian weavings.

The upper central field includes a tamga of the Afshar tribe.




A swastika drawing on a vessel found in Shamkir, Azerbaijan, 1500 BC. Azerbaijan History Museum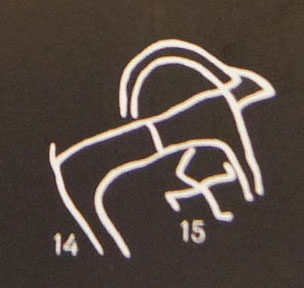 Gobustan Rocks. Azerbaijan. Early 20th century (imitated from an ancient drawing)




Gobustan Rocks. Azerbaijan. 3000 BC




Gobustan Rocks. Azerbaijan. 1000 BC


A 2600 years old cup found in Hasanlu Tepe (an archeological site of an ancient city located in West Azerbaijan Province, a short distance south of Lake Urmia) depicts a similar swastika motif.


pic1. different type of pinwheel/swastika motives