A swastika drawing on a vessel found in Shamkir, Azerbaijan, 1500 BC. Azerbaijan History Museum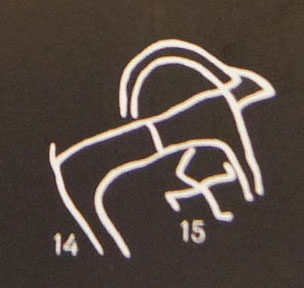 Gobustan Rocks. Azerbaijan. Early 20th century (imitated from an ancient drawing)




Gobustan Rocks. Azerbaijan. 3000 BC




Gobustan Rocks. Azerbaijan. 1000 BC

A 2600 years old cup found in Hasanlu Tepe (an archeological site of an ancient city located in West Azerbaijan Province, a short distance south of Lake Urmia) depicts a similar swastika motif.


The main border shows a so called 'calyx and leaf' motif and it contains two versions of Afshar tribal tamga.





"calyx & leaf" motif - it is one of the earliest rug motifs survived until today.

This XVI century painting shows a rug with a "calyx and leaf" motif.

King Henry VIII standing on a Turkish rug. 1537-1557, after Holbein. Location: Petworth House.