Antique Karabagh rug with "Memling" Guls, Kalbajar district (Javanshir uyezd), Western Karabagh, Azerbaijan

Code: KRBMM477

Age: c 1880-1890

Size: 140x235cm

Size (ft): 4'7"x7'8"

Selvedge: original

Structure: wool pile, tan wool warps and black wool wefts, in some places red wefts are used.

Knots: Gördes (Turkish, symmetrical)

Condition: full and original pile condition, center of the field has relatively lower pile

Notes: purchased from Bausback Antike Orreinteppiche in the 70's. In 2009, it was seen at Rippon Boswell & Co. International Auctioneers of Rare Carpets & Textiles www.azerbaijanrugs.com/guide/karabagh/moghan/antique_caucasian_karabagh_moghan_rug20.htm

For similar examples, see www.azerbaijanrugs.com/guide/antique_caucasian_karabagh_moghan_rugs.htm

Design: The medallions of the central field reflect one of the most archaic carpet motifs of Central Asian origin, the so-called "Memling Gül". This motif appears in a number of early European depictions of oriental carpets; for example, on the reverse of the eponymous late 15th century panel portrait of a young man by German-born, Netherlandish painter Hans Memling (1430/5-1494) in Madrid is painted a still life in which a vase of flowers rests on a small carpet with similar medallions.



Flower Still-life, c. 1490, Museo Thyssen-Bornemisza, Madrid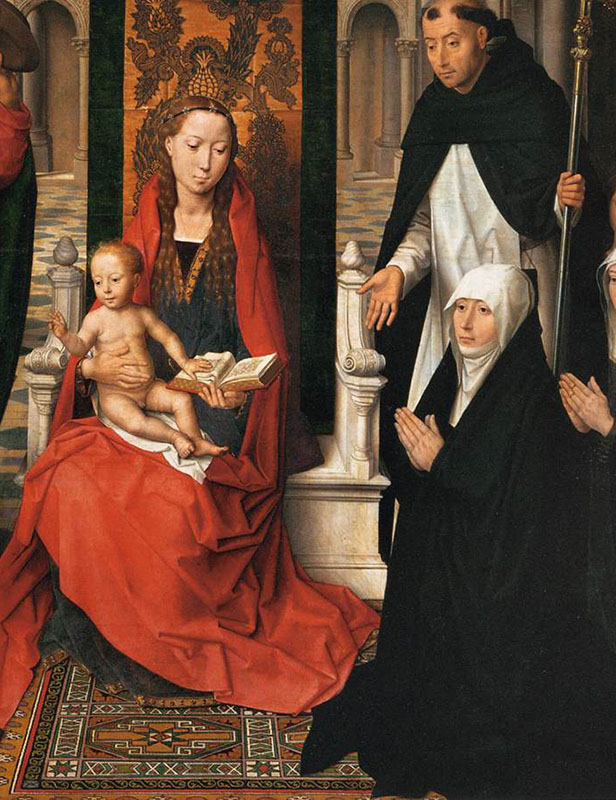 Anatolian Turkoman rug depicted in Hans Memling's "Madonna and Child with Sts. James and Dominic". 1488-90. Paris, Musee du Louvre

The Donne Triptych (centre panel), c. 1475, National Gallery, London
By Hans Memling

Virgin and Child Enthroned, c. 1485, Kunsthistorisches Museum, Vienna, by Hans Memling