Buta/Boteh has been used in Iran, Central Asia and Caucasus since the Sassanid Dynasty (AD 224 to AD 651). Some design scholars believe the Boteh is the convergence of a stylized floral spray and a cypress tree: a Zoroastrian symbol of life and eternity. A floral motif called Buteh, which originated in the Sassanid Dynasty (200–650 AD) of Iran and later in the Safavid Dynasty (from 1501 to 1736), was a major textile pattern in Iran and Caucasus during the Qajar Dynasty.
In these periods, the pattern was used to decorate royal regalia, crowns, and court garments, as well as textiles used by the general population. According to Azerbaijani historians, the design comes from ancient times of Zoroastrianism and is an expression of the essence of that religion. It subsequently became a decorative element widely used in Azerbaijani culture and architecture.

The pattern is still popular in Iran and South and Central Asian countries. It is woven using gold or silver threads on silk or other high quality textiles for gifts, for weddings and special occasions.
The usage of the pattern goes beyond clothing – paintings, jewelry, frescoes, curtains, tablecloths, quilts, carpets, garden landscaping, and pottery also sport the buta design in Azerbaijan, Iran and Central Asia.
Buta/Boteh is also one of the most important ornamental motifs of Mughal Indian art, consisting of a floral spray with stylized leaves and flowers. It is used in architecture and painting and in textiles, enamels, and almost all other decorative arts. The motif began to gain importance in the reign of the Mughal emperor Jahangir (1605–27).

Coptic silk textile depicting floral and boteh motifs were found in Akhmim, (a city in Upper Egypt). 5-7 centuries AD. Published at " Lyon Musée Historique des tissues Soieries Sassanides, Coptes et Byzantines V – XI siècles". According to the book, the boteh motif derives from the lotus leaf.
---
Here is a decoration of applied-leather plant motif on a leather flask from the Pazyryk tombs, Altai Mountains` (5th century BC). Hermitage Museum". This is perhaps the earliest decoration which can be connected to the boteh motif.
---

A similar motif can be found in the ancient textiles of Native Americans (Andean textiles, South America).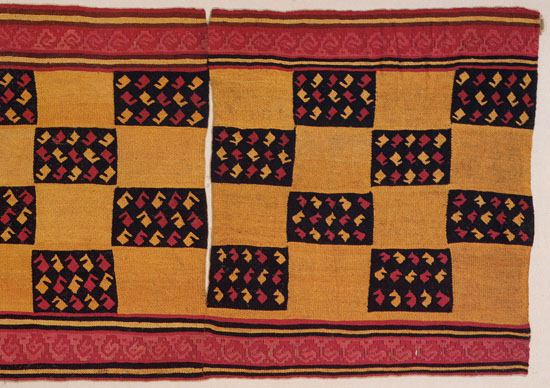 Andean textile from the late intermediate Chimu period (AD 1000 to AD 1476)
---

A decorative sleeveband with two horseman above depicting a boteh like motifs. Silk, Egypt, 6-8 centuries, Victoria and Albert Museum, London
In sum, boteh/buta element may have different meanings in the different cultures: Zoroastrian flame, shrub, Scythian decorative motif, a bird, flower, cypress tree etc.