Small pattern Holbein carpet, XV-XVI centuries, Ottoman Empire, Western Turkey. sold at Christies on 12 October 2000 for $25,555
---

SALE 6375 —
ORIENTAL RUGS AND CARPETS
12 October 2000
London, King Street

Lot Description
AN INCOMPLETE SMALL PATTERN HOLBEIN CARPET
WEST ANATOLIA, LATE 15TH OR EARLY 16TH CENTURY
The shaded brick-red field scattered with minor motifs around alternating panels issuing angular hooked vine in a brick-red interlaced "closed" kufic border, inner polychrome leafy meander stripe, areas of wear, some repiling
5ft.11in. x 5ft.9in. (180cm. x 175cm.)

Lot Notes
This, representing probably two-thirds of the original carpet, is a classic example of the small-pattern Holbein design. Woven on an alternating red and green field the design forms a rhythmical counterpoint of colour and line. As noted in the fuller note to the similar rug in the Alexander collection (Christie's, 15 October 1998, lot 208), there is here a playfulness in the design of the centre of each of the octagonal panels, showing considerable inventiveness while remaining on the same theme.

From their occurrence in paintings, where they are almost equally spread over the last half of the fifteenth and first half of the sixteenth century, we can be confident of the date of production of these rugs. The clear Timurid influence, noted under lot 199, and first demonstrated by Amy Briggs, is here very clearly visible (Briggs, Amy: "Timurid Carpets, I: Geometric Carpets" Ars Islamica 7, 1940, pp.20-54).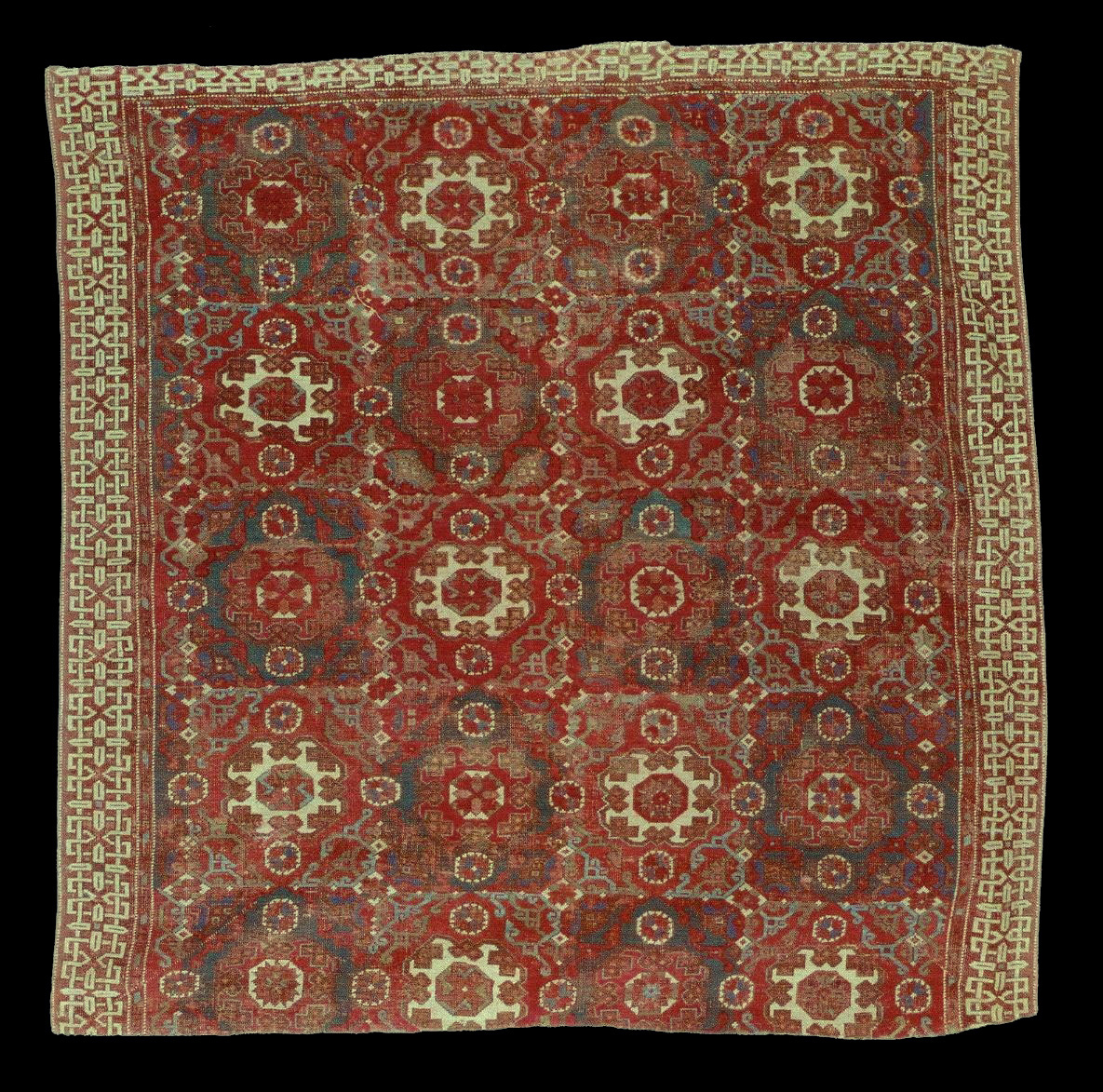 image source: www.rugtracker.com, John Taylor