Based on the design of the XVII century 'Vakiflar Museum Star Ushak' rug

CODE: SUV03

Size: 135x205cm

Size (ft): 4'5"x6'8"

Area: 2.76 m2

Density: 106 000 knots per square meter, totally ~300 000 knots

Colors: madder red, yellow, dark green, light aqua green, midnight blue, medium blue, ivory, dark brown.

Dyes: madder, weld (Reseda Luteola), indigo, pomegranate skins, onion skins (wefts), natural dark brown sheep wool, natural ivory sheep wool

Materials: Handcarded and handspun wool for pile, ivory wool warps and light red wool wefts (two shots, dyed with madder and onion skins). 6 cm of flatwoven kilim ends at both sides. - wool on wool

Knots: Gördes (Turkish, symmetrical)

Pile height: 0.4cm

Ends: chained fringes

Inscriptions: "Sultan Ahmed Khan Awwal" (in commemoration of the 14th Ottoman Sultan, Ahmed I (1603-1617))

Weaver: Azada

Weaving Period: Four months

Handwoven in Azerbaijan

Design: Woven in the Ushak region of western Turkey, "Star Ushak" carpets were made for regional consumption and for export throughout Europe in the XV-XVII centuries. Their association in European paintings with royalty and sanctity underscores the status these carpets enjoyed as luxury trade goods.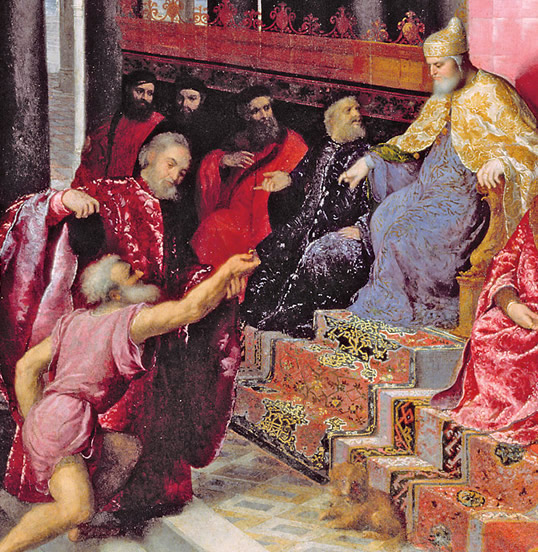 A Star Ushak carpet is depicted under the throne of the Venetian doge in a painting by Paris Bordone dating to 1534. "Return of the Doge's Ring"
Henry VIII standing on a Star Ushak carpet. c. 1567. Walker Art Gallery, Liverpool. by Hans Eworth - Flemish painter, (active 1540-1574 in England)