Kazak Pinwheel rug

Code: KZPW06M

Size: 172x243cm

Size (ft): 5'7"x7'11"

Area: 4.17 m2

Density: totally ~440 000 knots

Colors: red, dark blue, aqua green, soft green, lawn green, medium blue, old purple, ivory, dark brown, yellow, apricot (kilim ends).

Dyes: madder, weld (Reseda Luteola), cochineal, onion skins, indigo, pomegranate skins, walnut husks, natural dark brown sheep wool, natural ivory sheep wool.

Materials: Handcarded and handspun wool for pile, ivory wool warps and soft red wool wefts (two shots, dyed with madder, onion skins and walnut husks. In some parts, undyed ivory wefts have been used), pure silk. 1cm of flatwoven kilim ends at both sides. - wool on wool

Knots: Gördes (Turkish, symmetrical)

Pile height: 0.5cm

Ends: Triangular plaited fringes

Inscriptions: The tamgas (tribal seals) of 9 Oghuz tribes are woven on the border: Bayandur, Afshar, Kinik, Salur, Bayat, Kayi, Eymur, Yaparli, Dodurga tamgas. These were the tribes belonging to the Oghuz Confederation. The word "Oghuz" is woven on the upper right corner.




Weaver: Samira, Nargiz

Weaving Period: Four months

Handwoven in Azerbaijan


Design: The design is distinguished by the typical "Pinwheel" or Swastika shaped archaic devices located in the central field. The swastika is an ancient symbol, often interpreted with celestial connotations. According to some researchers, it represents the heavens with the center of the swastika as the north star (in fact, it is the endless knot motif) and the twisting arms of the motif symbolizing the movement of the constellations around that focal point. It is graphically portrayed in many weavings from Caucasian Azerbaijan, including the Bordjalou and Kazak areas. This element is called "Dörd-buynuz" (means "four rams") or "Damga" (Tamga) in Kazak region.

Another theory sees swastika as a highly stylized zoomorphic motif. The element was widely used in early Turkish rugs and in some Central Asian weavings.



Each swastika contains the endless knot motif - symbolizing how everything is connected to each other in the Universe. It is also believed to be an old ward against the fixed gaze of the evil eye.

The main border contains different motifs: swastika, rams horn, "S" shaped dragon, "X" shaped arrowhead motif (symbol of cardinal microcosm (human spreading his arms and legs symbolizing universe)), tamgas (explained above).

In the main field, a nomadic way of life is depicted: a man (in silk), tent, tree of life (in silk), deers (in silk), Rota Fortunae motif (Wheel of Fortune) etc.



A swastika drawing on a vessel found in Shamkir, Azerbaijan, 1500 BC. Azerbaijan History Museum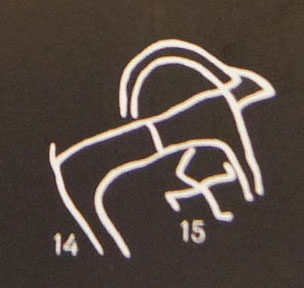 Gobustan Rocks. Azerbaijan. Early 20th century (imitated from an ancient drawing)




Gobustan Rocks. Azerbaijan. 3000 BC




Gobustan Rocks. Azerbaijan. 1000 BC


A 2600 years old cup found in Hasanlu Tepe (an archeological site of an ancient city located in West Azerbaijan Province, a short distance south of Lake Urmia) depicts a similar swastika motif.



pic1. various pinwheel/swastika motives from antique examples