Confronted Animal Rug

(Reconstruction of the 13/14th century (

Seljuk (Anatolian Seljuks: 1077-1308) or Ilkhanid (1256-1335) Period animal motif rug, The Metropolitan Museum of Art

)


CODE: CAMM14-10
Size (metric): 139x167cm
Size (ft): 4'6"x5'5"
Area: 2.32 m2
Weaving period: three months

Colors: madder red, sky blue, navy blue, yellow, ivory (undyed), dark brown (undyed).
Dyes: 100% natural dyes: madder, weld (Reseda Luteola),

indigo

,

pomegranate skins, walnut husks, natural brown sheep wool, natural ivory sheep wool
Materials: Handcarded and handspun wool for pile, wool warps (natural ivory) and ivory wool wefts (two shots)

Weavers' name: Könül
Handwoven in Azerbaijan

Inscriptions: tamgas (tribal seal) of Afshar and Kinik tribes





Pile height: 0.5cm

Ends: chained fringes, ~2 cm of flatwoven kilim ends

Design:

With its highly geometricized design, this wool rug differs markedly from the refined courtly carpets, and represents an earlier tradition of weaving that was popular in Europe, where rugs like this are found in fourteenth- and fifteenth century churches and paintings. In fact, the depiction of some rugs with the similar animal design as this in the 14-century Sienese paintings allows for the dating of the original rug. This is one of only three complete rugs of such an early date and its design of large confronted animals, each with a smaller animal inside, probably derives from contemporary textiles.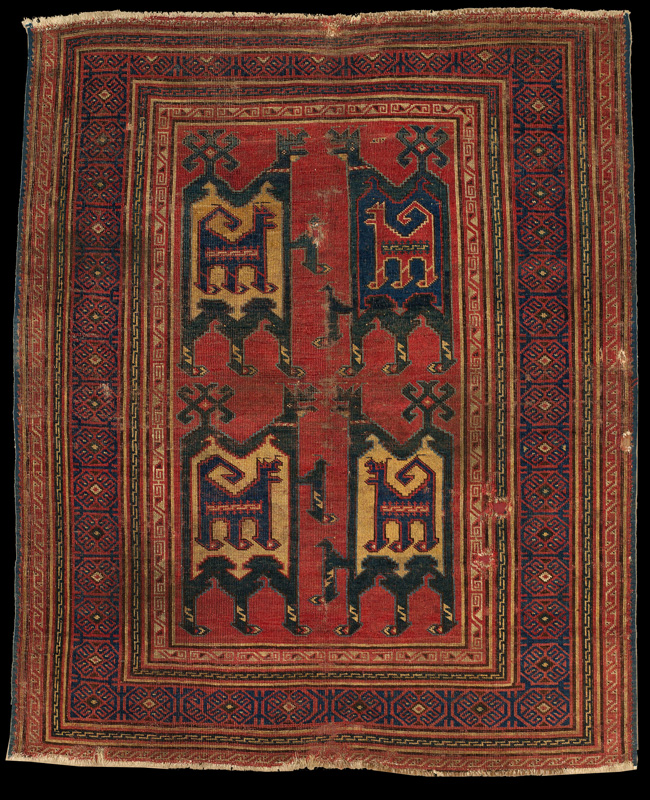 Confronted Animal Rug, 13-14th Century. Late Seljuk (Anatolian Seljuks: 1077-1308), Ilkhanid (1256-1335) or Eldiguzids (Atabegs of Azerbaijan 1135-1225), Turkey or Caucasus. The Metropolitan Museum of Art, New York. The rug has been carbon 14 dated to 1040-1290 AD




The Marriage of the Virgin about 1423, Attributed to Gregorio di Cecco di Luca *

Annunciation, Siena, ca. 1345, formerly in Schlossmuseum, Berlin




c. 1345. Abegg-Stiftung Collection, Riggisberg, Switzerland
Ambrogio Lorenzetti, Madonna and Child Enthroned with Saints, ca. 1349
Contact us for more information about this rug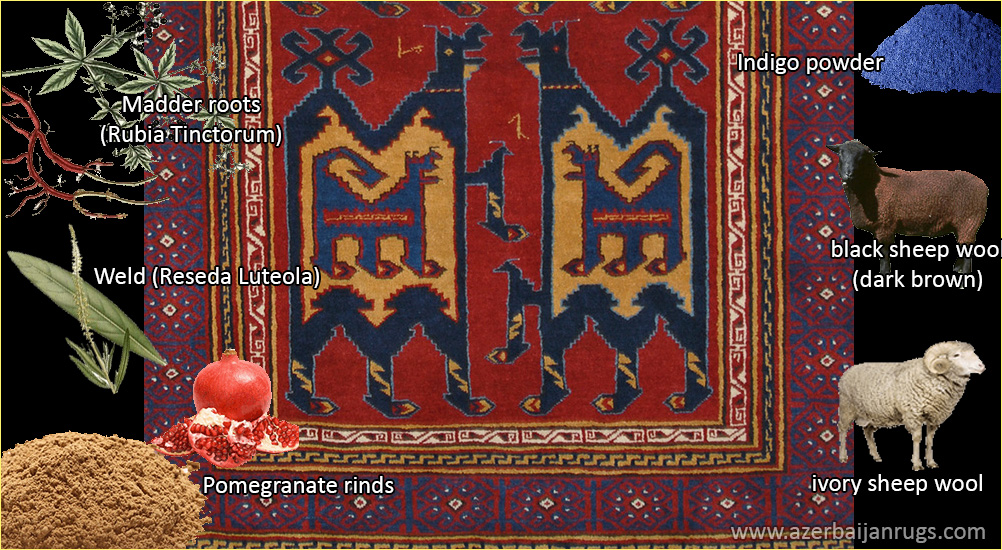 Contact us for more information about this rug


For more information about the above rug or to place an order please email vd@azerbaijanrugs.com (Baku, Azerbaijan) or ra@azerbaijanrugs.com (San Francisco Bay Area). We will get back to you within 24 hours or less.